UAVs from the companies Skyeton, Culver Aviation, and Ukrjet will soon go to the front.

The head of the Ministry of Digital Transformation of Ukraine, Mykhailo Fedorov, stated in Telegram that the government plans to purchase domestic drones for the army from the companies Skyeton, Culver Aviation, and Ukrjet, and is currently discussing the terms with the developers. Focus will tell on the history of creation and peculiarities of Ukrainian aircraft.
UJ-22 Airborne: An attack drone with a large arsenal

UJ-22 drone at the airfield
Photo: dev.ua
In 2021, the Ukrjet company presented the UJ-22 Airborne attack drone at the "Weapons and Security-2021" exhibition. It is designed to destroy manpower and combat equipment, and for this purpose, it can carry unguided aerial bombs, 82 mm mines (4 pieces) or RPG-7 grenades (BP).
Chief engineer of "Ukrjet" Ihor Kramarenko told the website "Army Inform" that the accuracy of hitting the drone from a distance of 700 m is up to 10 m - a rather high indicator for unguided projectiles. According to the developer, the ZSU has a large number of ammunition used by the UJ-22, before dropping them you only need to install special "plumage", and this can be done right on the battlefield.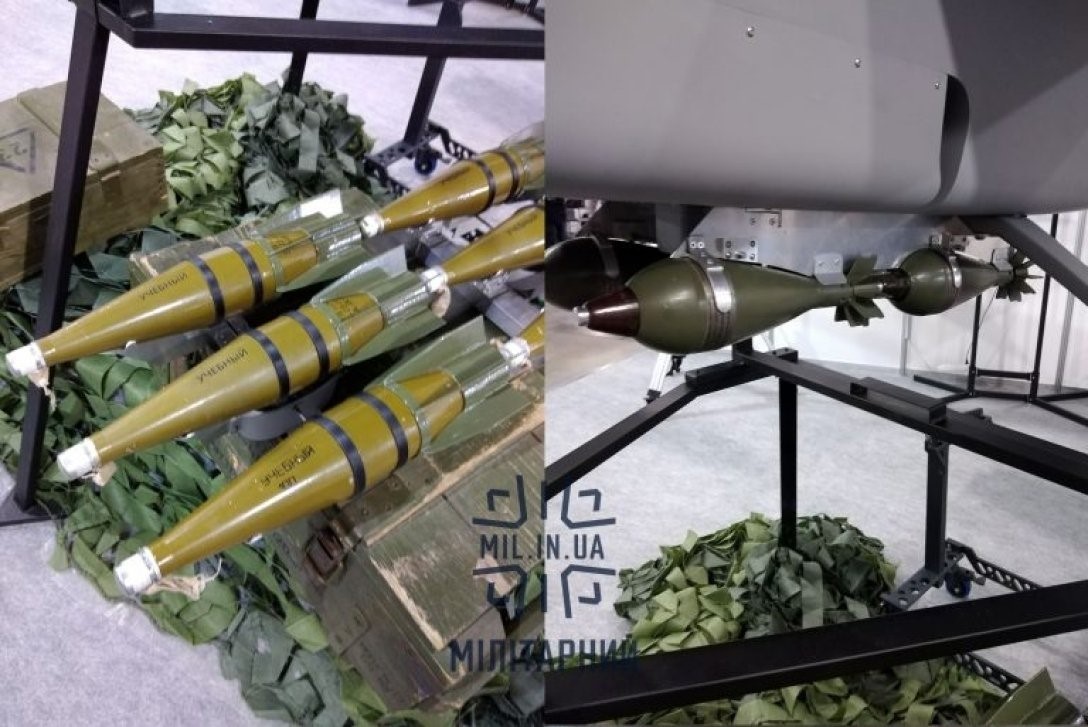 UJ-22, drone, shells
The model can not only destroy enemies but also conduct reconnaissance thanks to a 64-megapixel camera. Sometimes live photos are better than live videos because the military can see the surface of the earth at a resolution of up to 5 cm per pixel.
For the take-off of the device, a platform of at least 50 m is required. Control is carried out in manual, semi-automatic and automatic modes, that is, the combat drone does not require the operator's participation to perform combat tasks. Communication between the control center and the military UAV is carried out via an encrypted channel, while the operators can be in a special car.
The UJ-22 can fly in extreme weather conditions. It is equipped with a starter generator and an autopilot system developed by Ukrjet engineers. To counter electronic warfare systems, the developers created the "Xens" inertial system, which allows you to do without communication with GPS satellites - just enter the coordinates.
"It takes up to 2 months to produce one complex (this is a ground station and 2 drones). One month is enough to train an operator so that he can confidently perform his work," shared Ihor Kramarenko.
Characteristics of the UJ-22 Airborne:
Range: 100 km when communicating with the operator and 800 km on autopilot;

Maximum speed: 160 km/h;

Maximum flight height: 6 km;

Maximum flight duration: 12 hours;

Payload weight: up to 20 kg;

Maximum take-off weight: 85 kg.
ACS-3 from Skyeton: a record holder who is not afraid of "jammers"
ACS-3 drone on the take-off platform
The Skyeton company began developing its own drone in 2014, choosing a design with a gasoline engine and a fixed wing, and two years later the Ukrainian army adopted it. The military version of the aircraft complex was named ACS-3, and the civilian version was named Raybird-3.
On September 6, 2019, Raybird-3 set a Ukrainian record for the maximum flight duration — 24 hours and 31 minutes. During this time, the device covered more than 2,000 km, while saving fuel for another 1.5 hours. In 2020, the developers introduced a modified version of the ACS-3M with a new injection engine, improved software and the ability to mount a small-sized radar with a synthesized aperture.
Head of "Skaeton" Roman Knyazhenko told Defense Express about the main advantages of ACS-3. According to him, the drone can operate without fear of enemy EW systems. If it gets into its range and encounters obstacles, it will continue to fly, but no longer with GPS, but with a digital map loaded into the system or relying on an inertial high-precision system. When trying to "silence" the UAV communication channel, noisy broadband telemetry and control systems will come to the rescue. It will be difficult for the adversary to find the frequency at which the ACS-3M operates, and the UAV can change it at any time.
Characteristics of ACS-3:
Range: 240 km;

Maximum speed: 140 km/h;

Maximum flight height: 35 km;

Maximum flight duration: up to 28 hours;

Payload weight: up to 5 kg;

Maximum take-off weight: 23 kg.
SKIF drone: scout and cartographer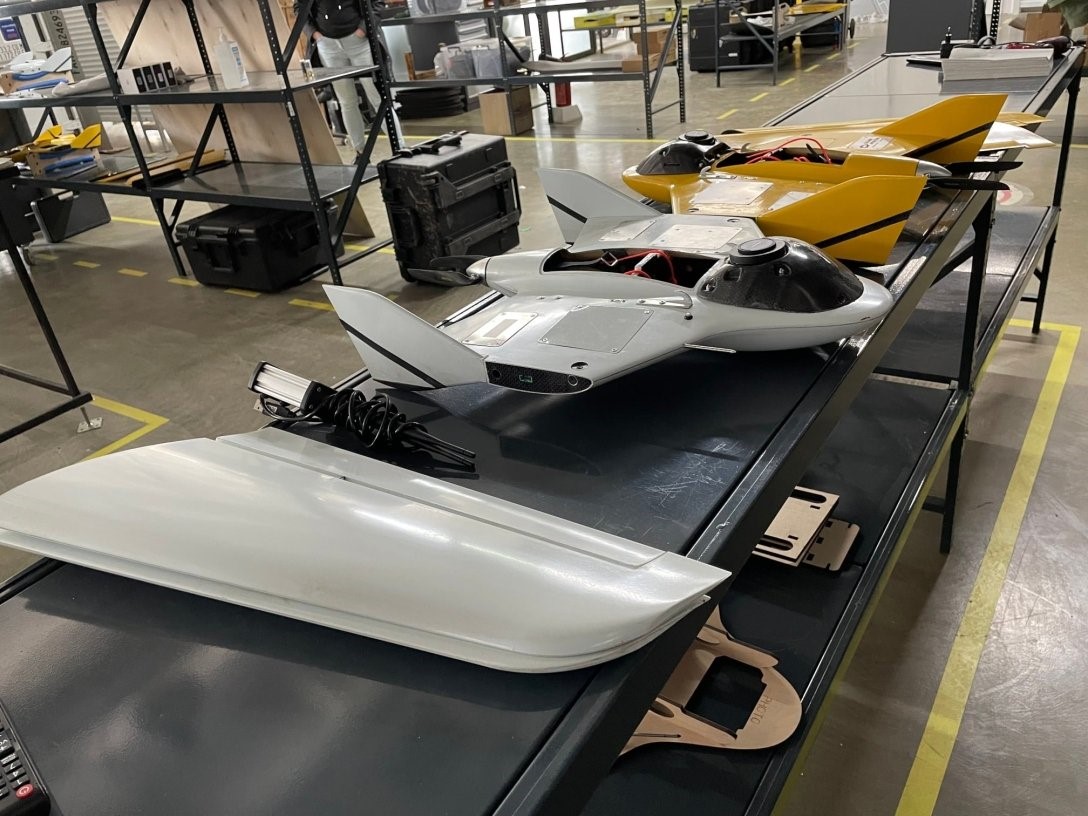 SKIF drones with detached wings
Photo: Facebook
Culver Aviation began developing a military reconnaissance drone, and then began using it for commercial purposes. SKIF is now assessing the damage caused by the Russian military and creating detailed maps of the area thanks to a 61-megapixel camera with an accuracy of up to 1 cm per pixel, as well as a GNSS navigation system. Such characteristics allow him to conduct reconnaissance on the battlefield. The UAV flies independently along a programmed route, but the operator can control it in real-time and take control if necessary.
The history of the creation of UAVs began in 2014, when entrepreneur Oleksandr Danylenko met with a friend and saw a self-made aircraft capable of flying along a programmed route and transmitting video. The comrades created the volunteer organization EyeTech and began to develop a drone for the Ukrainian army, assembling prototypes in a garage until they assembled a model called Patriot, which interested the Ministry of Defense.
Now the project has grown into the ITEC company, and the aircraft has received improvements: a good camera, a thermal imager, a battery that provides 2 hours of operation. In 2016, project participants learned to use more modern materials and computer programs to check aerodynamics. But orders from volunteers were not enough to keep the business afloat, and the Ministry of Defense never signed a contract, so ITEC changed its name to Culver Aviation and began working with civilian customers, such as farmers, assembling drones called SKIF. In one flight, the "bird" can cover an area of up to 1,500 hectares.
Features of SKIF:
Range: 50 km;

Maximum speed: 70 km/h;

The maximum flight height is 400 m;

Maximum flight duration: 2 hours.
Earlier, Mykhailo Fedorov showed new UAVs bought for the "Drone Army" of Ukraine. The Armed Forces of Ukraine have already handed over dozens of FLyEye and DJI Matrice 300 with money donated by Ukrainians and residents of more than 70 other countries around the world.
Original article – https://focus.ua/uk/digital/524420-vsu-poluchat-drony-ukrainskogo-proizvodstva-chto-izvestno-ob-acs-3-skif-i-uj-22